Christianity Thomas on 30 Jun 2012 03:17 pm
In the Southern United States, Vacation Bible School (VBS) is a long tradition. Churches advertise what are generally week-long programs in the summer. Parents sign their kids up and bring them for a week of Bible school lessons at the church. It is something like a Christian day camp lasting two to four hours per day depending on the church.
VBS programs have become quite slick in recent years, with national groups putting together packages for churches to buy. The packages include themed curriculum, scripts, backdrops and decorations, posters, custom music CDs, song books, etc. Here is one such VBS package being sold this year:
Sky VBS 2012 – Everything is possible with God!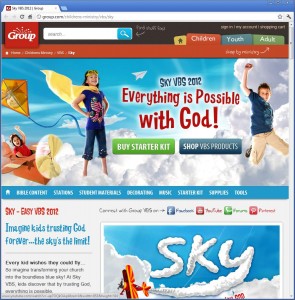 If you look at that page, you can see that the children who attend and are indoctrinated at Vacation Bible School start receiving hypocrisy and false promises from the very start. Look at the page's first paragraph of text:
Every kid wishes they could fly…
So imagine transforming your church into the boundless blue sky! At Sky VBS, kids discover that by trusting God, everything is possible.
By trusting God, everything is possible… except the kids will NEVER be able to fly like superman, with a cape as pictured. How much more hypocritical can things get?
If anything is possible with God, why can't kids fly like superman?
Here is one of the songs that the kids learn at Sky VBS:
"It doesn't matter who you are, you can trust God."
Right after singing this song, the children are introduced to Operation Kid-to-Kid, where they are asked to bring money for mosquito nets:
Yes, you can trust God – unless you are a kid dying of Malaria in Mali. In that case, this "trustworthy" God is letting 2,000 kids die per day.
How can such rank hypocrisy and superstition legally be taught to children?
99 Responses to "The Hypocrisy of Christian Teaching at Vacation Bible School"
Leave a Reply