Christianity Johnson on 06 Oct 2008 08:33 am
In Raleigh, North Carolina, the local paper is called The News and Observer. Every Thursday the paper panders to Christians by publishing the "Faith" section. It is a collection of feature articles focused on religion along with religious advertising. This half-page ad, entitled, "The following businesses encourage you to visit your house of worship this week", is a regular feature: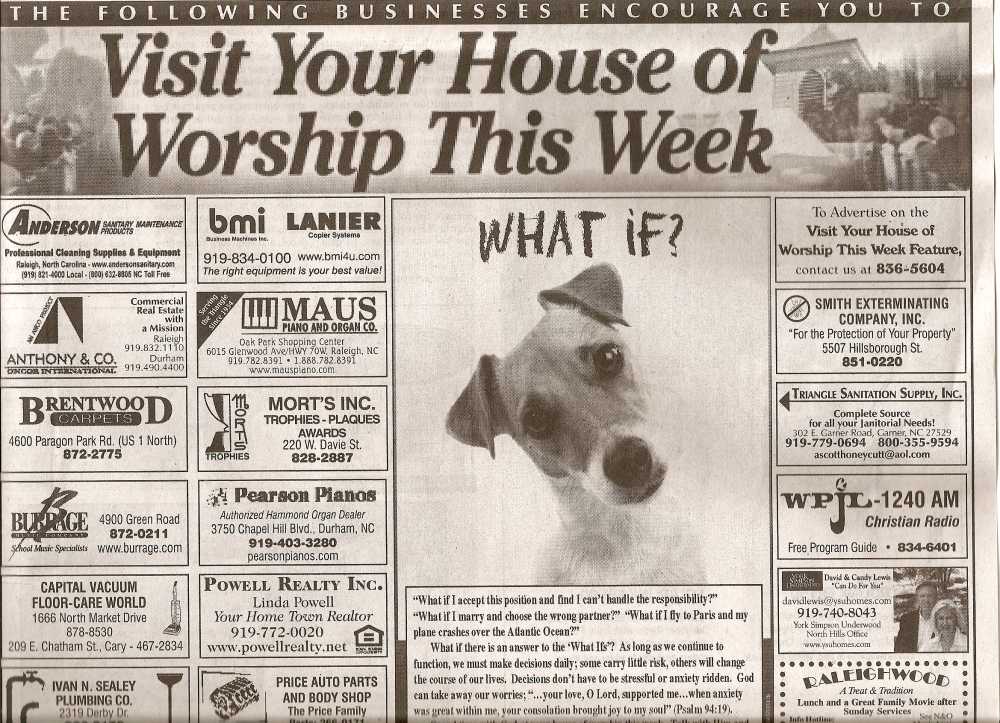 These businesses believe that by aligning with a followers of religion, they will get more religious customers. Since the definition of Pandering is "a person who caters to or profits from the weaknesses or vices of others", you can see that both the paper and these businesses are pandering.
The center panel of the ad this week is also interesting: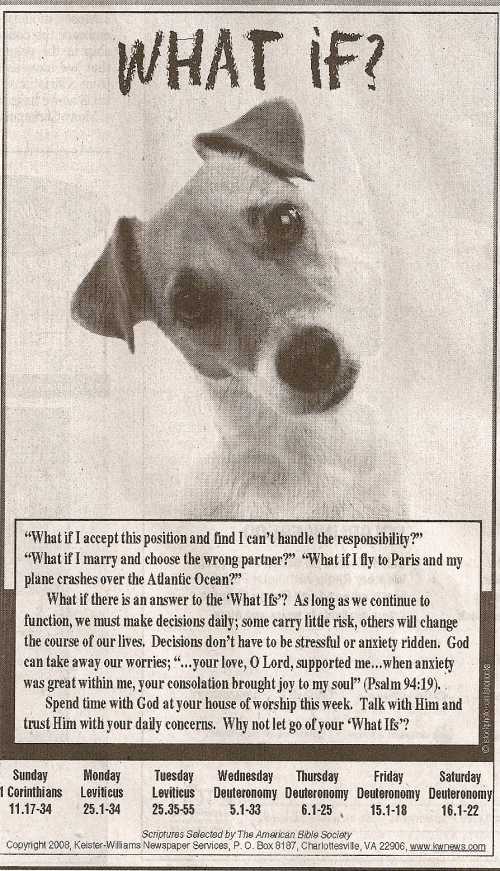 It is entitled "What If?". It promises that "God can take away our worries!" It also promises that God can help us make decisions: "Talk with Him and trust Him with your daily concerns. Why not let go of your 'What Ifs'?" Examples of What Ifs include:
– "What if I accept this position and Find I can't handle the responsibility?"
– "What if I marry and choose the wrong partner?"
– "What if I fly to Paris and my plane crashes over the Atlantic ocean?"
So is it true? Can God help Christians make decisions? Let's focus on the second What If: "What if I marry and choose the wrong partner?" It is a fact that Christians divorce at the same rate (or even a slightly higher rate) as everyone else. So one of two things is happening:
1) Christians forget to ask God for his help in choosing a marriage partner, and, being a jerk, God only provides help when asked.
2) God is deliberately sabotaging Christian marriages by providing the wrong answer when asked for help.
A rational person understands the real problem: God is imaginary. Therefore, when Christians "trust Him with their daily concerns," there is no "god" to provide an answer. While Christians believe that an all-knowing "god" is speaking to them, all they are really hearing are random hallucinated voices in their heads. The data proves that this is the case.
If you are a Christian and you would like to better understand the fact that God is imaginary, these two web sites can help:
PS – the recommended Bible verses at the bottom of the panel are also interesting, since all but one come from two of the most insane Old Testament books in the Bible. When confronted with the many absurdities in the Old Testament, many Christians will claim that the Old Testament is not really part of the Bible. But apparently mainstream Christians, and all of these businesses, do believe that the Old Testament is valid. So when the Old Testament says that we need to kill homosexuals, adulterers and everyone who works on the Sabbath, these businesses must believe those verses to be true.
17 Responses to "Pandering to Christians"
Leave a Reply