Christianity Johnson on 06 Sep 2008 04:01 pm
This New York Times article talks about Sarah Palin's religious beliefs:
In Palin's Life and Politics, Goal to Follow God's Will
Palin's goal, according to the New York Times, is to follow God's Will. The reality is far different. Sarah Palin actually ignores God's Will every day she is in office. It is fascinating to watch such a devoted and public Christian behave in this way.
The article contains this quote:
In the address at the Assembly of God Church here, Ms. Palin's ease in talking about the intersection of faith and public life was clear. Among other things, she encouraged the group of young church leaders to pray that "God's will" be done in bringing about the construction of a big pipeline in the state, and suggested her work as governor would be hampered "if the people of Alaska's heart isn't right with God."

She also told the group that her eldest child, Track, would soon be deployed by the Army to Iraq, and that they should pray "that our national leaders are sending them out on a task that is from God, that's what we have to make sure we are praying for, that there is a plan, and that plan is God's plan."
Here is the video of Palin's address at the Assembly of God Church if you would like to verify the quotes and get a feeling for Palin's tone and demeanor:
The article also contains this quote:
"The churches that Sarah has attended all believe in a literal translation of the Bible," Ms. Kincaid said. "Her principal ethical and moral beliefs stem from this."
How do Christians learn about God's Will and God's Plan? God does not make public speaking appearances. Thus, according to Christians, the way we hear God speak is through the Bible. The Bible is a Christians' sole source of knowledge about God's Will.
And this is where things get interesting. Because when we read the Bible, we find that God is quite clear. God does not want women serving in positions of authority. God wants women staying at home and living in full submission to men. Many evangelicals understand that it is a Biblical contradiction to have a female governor, and they are speaking out. In this post…
…we find this quote:
My heart breaks for her husband.  Mrs. Palin is not even supposed to be the head of her own household (Eph. 5:22ff; Col. 3:18; Titus 2:5; 1 Peter 3:1-7), let alone the State of Alaska, or the United States Senate (The VP oversees the Senate).  He should be shepherding her, but instead she is ruling over him. 
These Bible verses tell us God's Will in no uncertain terms, and they are amazing:
Wives, submit to your husbands as to the Lord
Wives, submit to your husbands, as is fitting in the Lord.
Likewise, teach the older women to be reverent in the way they live, not to be slanderers or addicted to much wine, but to teach what is good. Then they can train the younger women to love their husbands and children, to be self-controlled and pure, to be busy at home, to be kind, and to be subject to their husbands, so that no one will malign the word of God.
Wives, in the same way be submissive to your husbands so that, if any of them do not believe the word, they may be won over without words by the behavior of their wives, when they see the purity and reverence of your lives. Your beauty should not come from outward adornment, such as braided hair and the wearing of gold jewelry and fine clothes. Instead, it should be that of your inner self, the unfading beauty of a gentle and quiet spirit, which is of great worth in God's sight. For this is the way the holy women of the past who put their hope in God used to make themselves beautiful. They were submissive to their own husbands, like Sarah, who obeyed Abraham and called him her master. You are her daughters if you do what is right and do not give way to fear.

Husbands, in the same way be considerate as you live with your wives, and treat them with respect as the weaker partner and as heirs with you of the gracious gift of life, so that nothing will hinder your prayers.
Another salient verse is found here:
I also want women to dress modestly, with decency and propriety, not with braided hair or gold or pearls or expensive clothes, but with good deeds, appropriate for women who profess to worship God.
 
A woman should learn in quietness and full submission. I do not permit a woman to teach or to have authority over a man; she must be silent. For Adam was formed first, then Eve. And Adam was not the one deceived; it was the woman who was deceived and became a sinner. But women will be saved through childbearing—if they continue in faith, love and holiness with propriety.
This last verse not only tells women to live in full submission to men, but also tells them to avoid "pearls or expensive clothes". Which is remarkable in light of the way Cindy McCain dresses:

Vanityfair.com – Cindy McCain's $300,000 Outfit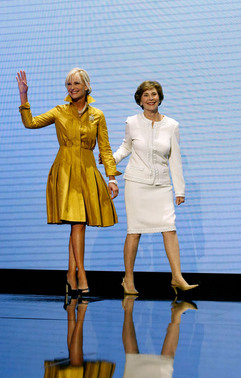 Photo via VanityFair.com
Apparently Cindy McCain's goal in life is to laugh loudly at God's Will

God has made his will incredibly clear to Christians in the Bible. Women are to be in full submission to men. They are to be silent in public. They are not to serve in any position of authority over men. They are to dress modestly, without pearls or expensive clothes.
What do Sarah Palin, and all of the Christians who support her, do with God's Will and God's Word on this issue? They completely defy God. They ignore God's Word and God's Will without a second thought.
How is this possible? How can Sarah Palin claim to be a strong Christian whose goal in life is to follow God's Will, while at the same time defy God is such an obvious and public way? How can other Christians support her, knowing that she is defying God? The level of hypocrisy seen here is extremely uncomfortable to anyone who values honesty and integrity.
Are you a Christian who is beginning to understand the hypocrisy and delusion of Christianity? Are you growing ashamed of "God's Will", especially in light of how repulsive it is in the Bible? For example, who wants to believe in a book and a God that obviously treats women as second class citizens? To break free of religion, start by watching this video to affirm just how repulsive the Bible is:
Proving that the Bible is repulsive
Watch this video to understand the delusion of Christianity:
How do we know that Christians are delusional?
And then read through this web site, which will introduce you to a better way of life that is free from lies, hypocrisy and delusion:
36 Responses to "How Sarah Palin ignores God's Will every day"
Leave a Reply